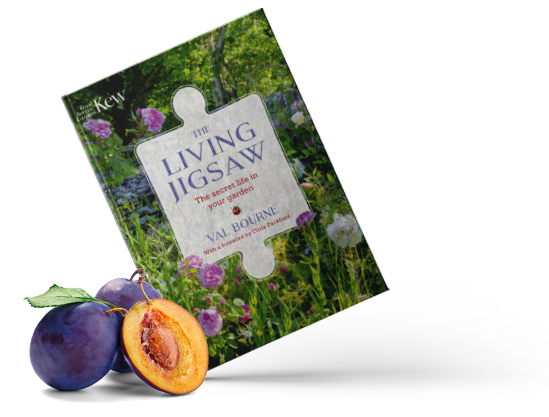 Latest release
The Living Jigsaw: the secret life in your garden
AuthorVal Bourne Published byKew Publishing Published31 March 2017
The Living Jigsaw is my eighth book and it's all about gardening without using chemical props, for I believe passionately that it's quite possible to have a beautiful flower-packed garden and help wildlife. It's photographed in my Spring Cottage garden, with the help of Marianne Majerus who's wo...
Buy this book from Amazon
Books

Writing a book is a huge commitment so I'll only tackle a book if I feel I have something new to say, or I get a request to reprise a popular column. The upside is that your text survives far longer than a newspaper article and is far less likely to be mauled by editors - many of whom remove the key point!
My two most important books are The Natural Gardener and The Living Jigsaw and both advocate gardening without the use of chemicals, for wildlife's sake. You don't need chemical props to garden well and you'll end up with more problems with slugs, pests and diseases. It's much better to have an eco-friendly balanced garden that helps sustain the planet.
Seeds of Wisdom and The Ten Minute Gardener Fruit, Vegetable and Flower both began as weekly Daily Telegraph pieces columns. They're ideal gift books full of correct, pithy informations and the woodblock covers have been copied my many publishes since.
Colour in the Garden tackles a tricky subject from the gardening point of view, because the plants change and the colour palette as the seasons change. This book contains some of my favourite plants.
The Winter Garden departed from the usual winter text about winter-flowering plants because it tackled seed heads, winter stems and grasses.