About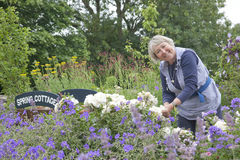 Val Bourne is an award-winning garden writer, photographer and lecturer and she gardens on the wind-swept Cotswolds at Spring Cottage - high above Bourton-on-the-Water in Gloucestershire. Her third of an acre garden is managed without using chemicals - something Val has always believed in. She is a hands on gardener and a committed plantaholic.
Val has been gardening naturally for thirty years or more and wrote about her previous Oxfordshire garden in her award-winning book 'The Natural Gardener' published by Frances Lincoln in 2004. It explains how a plant-packed garden functions successfully without chemical intervention and the purpose behind the book was to encourage others to become green gardeners too. Her latest book, 'The Winter Garden', was published in October 2006 by Cassell Illustrated and it describes how to make your garden shine in winter. 'Colour in The Garden', published in September 2011 by Merrell, is a practical guide to blending plants. The Ten-Minute Garden Diaries (also September 2011) distill thirty years experience of gardening and they explain to gardeners when to tackle important jobs.
Val writes for The Daily Telegraph, Saga Magazine, The Oxford Times, the Hardy Plant Society Journal and many other magazines.
Val lectures widely in this country and internationally and she has lectured at the Barakura Garden Show in Japan and in South Africa.
Her Natural Gardener Consultancy is designed to help individual gardeners make their garden greener and more ecologically sustainable and offers practical planting advice and individual advice.
However writing is only part of her life, her soul is in her garden and Val started growing plants at the age of three - encouraged by her Yorkshire grandmother Lucy. Her particular loves are hardy perennials and snowdrops.
Val also enjoys growing vegetables and fruit and looking after her chickens - three Silver Sussex bantams and five Barnevelder hens - with her partner Joe. Her daughters, Frances and Zoe, are keen gardeners too and she has four very young grandchildren India, Ellie, James and Jessica.