Hardy ferns for winter interest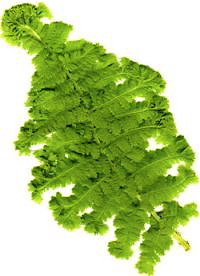 from The English Garden
Good foliage is the backbone of any garden and it's at a particular premium during the winter months when so many trees are bare and when most plants have retreated underground. That's when evergreen, hardy ferns come into their own. They shine out like beacons and as low winter sun slants through the garden, it picks up the fine detail of bristled stems, ruffled edges and lacy fronds. If raindrops gather or mist descends, the winter scene becomes even more magical.
Ferns can be used to enhance shady corners where little else will grow and there are lots of variations because these primitive plants only one set of chromosome. This means that genetic differences often appear. The Victorians delighted in this diversity and avidly collected any unusual ferns. They also admired their rustic charm and they liked to recreate the romance of the wild within their own gardens by creating ferneries, rock gardens and stumperies.
The Victorian craze for fern collecting eventually died away, thankfully allowing wild ferns the chance of recover. But about twenty years ago Martin Rickard, fern specialist and author, reawakened interest and now they are highly popular once again. They create serenity and calm in shady parts of the garden and if top dress with bark chippings and add driftwood or logs you can make that awkward corner a real feature in your garden.
The Best Ferns for Winter Interest
Solid Blocks of Green
The Hart's Tongue fern ( Asplenium scolopendrium) is a British native with has tongue-shaped, undivided leaves in bright-green livery. Their fronds tend to yellow and scorch in strong sunshine so Asplenium scolopendriumÊ is best grown in deep shade. It is a small fern (barely reaching 18 inches (30 - 40 cm) in height) and I often tuck mine up against stone walls.
Aspleniums ( thought to cure afflictions of the liver and spleen) grow best in limy soil, though they are tolerant of all soil types. There are two main leaf types. The Crispum Group have ruffled edges and the Cristatum Group have leafy cockades at the top of each frond. Both terms are widely used to describe other ferns. Aspleniums provide a fine contrast with lacier ferns and the only maintenance needed is a gentle tidy in late spring.
<NOT SURE ABOUT THIS>
para here on fine varieties -
kayes lacerated -good fern - plus
Handsome and Stately until Midwinter
If you envisage growing handsome, upright ferns with a strong presence you need to seek out the following species of dryopteris, a genus that probably contains the greatest number of handsome, robust ferns. Most are described as wintergreen rather than evergreen because their fronds start to break up in December. Once they become ragged, cut each at the lowest point to reveal the chestnut-brown knuckles at the base. These contain next year's leaves and they make make a perfect backdrop for prisitine snowdrops. The new crosiers unfurl in April and obligingly cover up the withering snowdrop foliage. Most drypoteris (meaning fern under oak tree)Ê are highly tolerant of dryish shade too.
The Golden Male Fern ( Dryopteris affinis) has stems with golden scales and dark-green foliage and certain varieties can reach 120 cm or 4 feet in height. Fine forms include the very ferny "Crispa Gracilis" and the elegantly slender "Cristata" which has a crested tip to each narrow leaflet. The latter is often called The King Fern due to its presence and if you need a fern for a more exposed, windier garden or for a sunnier position grow choose varieties of Dryopteris affinis .
The Male Fern, Dryopteris filix-mas, is our most common British fern in the wild. It grows in deepest, darkest shade and it's indispensable in dank corners. "Crispa Cristata" is one of the finest with its intricate crest and tipped fronds - though this one only reaches 60 cm or 2 feet - about half the height of most. I also admire Dryopteris wallichiana for its black, bristled stems and bold, bright-green leaves, although some forms have brown bristles. Seek out the black-bristled forms that originate from The Himalayas, they're stunning.
Evergreen Mossy Textures and Lacy Fronds
If you admire intricate ferns with bristly stems and mossily textured, light-green leaves you should explore the polystichums. Their leaves will endure through the whole winter and the new fronds, which unfurl in April, form s-shaped crosiers. The Soft Shield Fern (Polystichum setiferum) prefers limy soil, good drainage and an airy position. Too much moisture tends to brown and mar the fronds. The most finely cut are the Plumosodivisolobum Group, but there are many others to choose from.
Shiny Simpler Leaves with an Enduring Quality
The polypodiums enjoy airier conditions like the polystichums, but they have shinier, plainer leaves with bold leaflets. They offer us the most enduring winter foliage of any fern because they don't produce their new fronds until late summer. Polypodium australe, The Southern Polypody, hails from Mediterranean regions and thrives in warm, wet winters. There are many named forms and perhaps the star is "Grandiceps Fox" a broad-fronded fern well-crested along the sides and the top. With so many on offer though, the choice is yours.
Planting Companions
The key principle when growing ferns is to mix and match because as winter descends it's the tapestry of varying textures, shapes and greens that delights the eye.
Space your ferns well so that you can appreciate their shape and stance and interplant with diminutive early woodlanders and miniature bulbs. Use some white flowers to create a crisp freshness. Wood anemones ( Anemone nemorosa), the early slightly-spreading mauve-pink Cardamine quinquifolia, snowdrops, white or yellow erythroniums, miniature narcissi, Cyclamen coum and green-leaved (not glaucous) dicentras make wonderful partners.
Propagation
Evergreen ferns with good winter foliage usually tolerate dryish shade. In contrast deciduous ferns usually need moist conditions to thrive.
Ferns need water droplets to reproduce naturally and if you live in the damper western half of Britain they may reproduce freely. Spores can be collected, dried and sown, but remember the progeny are variable.
Some ferns, particularly polystichums, form bulbils on the fronds, often at the tip. Lay the frond on a seed tray full of peat and then lightly cover with fine grit. Any new plants will be identical to their parent. Dryopteris filix-mas, can produce basal bulbils, but these are tricky to remove.
Mature ferns can eventually form split crowns and these can be divided using a sharp knife or two forks. I prefer to do this in spring. Larger divisions can be replanted straight away. Smaller ones are best potted up and allowed to root before planting out.
Where to Buy
Fibrex Nurseries
Honeybourne Road, Pebworth, Stratford-upon-Avon, Warwickshire, CV37 8XP
Tel: 01798 720788
Web:
www.fibrex.co.uk
Rickards Hardy Ferns
Carreg y Fedwen, Sling, Tregarth, Bangor, Caernarfonshire, LL57 4RP
Tel: 01248 602944
Web:
www.rickardshardyferns.co.uk

Long Acre Plants
South Marsh, Charlton Musgrave, Wincanton, Somerset, BA9 8EX
Tel: 01963 32802
Web:
www.longacreplants.co.uk