The importance of gardens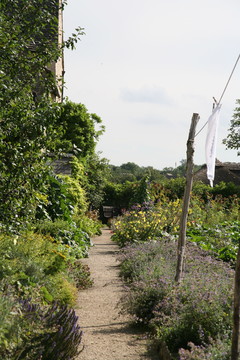 from Wild About Gardens
If you doubt the importance of your own garden as a potential haven for wild flowers, insect life, small animal and bird life, think about the massed green patchwork that's visible from the air, even in built-up areas.
Gardens of every kind tuck themselves round buildings and become vital conservation sites. Now that one in every eight plants in the world is threatened with extinction and many insects, birds and animals are short of habitat, we have to change the way we garden and view our own gardens as important mini-nature reserves, not neat garden rooms.
The most helpful things you can do as a gardener are, abandon the insecticides and the slug pellets, compost your own garden waste, leave leaf litter undisturbed and have some areas of long grass.
Just these four things will encourage wildlife and allow some native plants to gain a foothold on your plot. In return, you'll be dazzled by the movement of the bees, butterflies and insect life - and the insects will attract the birds and feed their fledglings.
Have faith and make the life-changing decision to become a natural gardener now. You won't regret it.