Stripe Action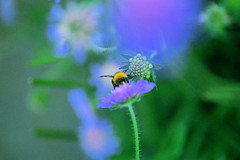 Gardeners from Africa to the Arctic Circle owe much to the early flying bumble bee. Val Bourne celebrates these remarkable creatures. One of the most important creatures in the garden is the bumble bee. Without these busy pollinators broad beans, gooseberries, currants, pears, plums, apples and countless other plants would fail to set seed or crop.
On a mission: the plight of the bumble bee
Many gardeners will have already spotted their first bumble bee hovering over a crocus, pulmonaria, dead nettle or hellebore. That first sighting - three weeks early this year in some parts of the country - will have been a large queen emerging from hibernation in search of nectar. Once revitalised she flies low, zigzagging over the ground, investigating piles of leaves, tussocks of grass and dead, dry vegetation in search of a new nesting site.
Having found the right spot she begins to fill her larder with "pots" containing a sticky mixture of wax and pollen, into which she lays her eggs. These will develop into workers and, although they're female, they do not mate because they are chemically suppressed by the queen's pheromones. Later, males and new queens will be produced.
A successful colony, which consists of irregularly arranged cells containing 50 or so workers, survives only one year - a humble affair compared to the honey bees' nest, which lasts many years and can support up to 80,000 individuals. But bumble bees are impressive creatures despite their rather ramshackle nests. Their size alone defies the law of aerodynamics but they also have a unique central-heating system. While most other insects have to bask in warm sunshine or waste valuable energy revving-up to warm their flight muscles, bumble bees can generate their own body-heat chemically to 37 C. This allows them to fly in low temperatures, particularly on cool mornings and late at night, for most months of the year. It also makes them far more productive than the honey bee, which can only emerge when it's warm. You see bumble bees working in temperatures as low as 10 C and in rain. If the temperature drops suddenly they rest. I've found them curled round the thimbled centres of Eryngium giganteum (Miss Willmott's Ghost) using the steely bracts as a hammock, or slumped peacefully against the brown middle of a bright helenium waiting for the weather to warm up.
There are 250 species of bumble bee (Bombus) worldwide, of which five live inside the arctic circle - the most northerly sighting of Bombus polaris was recorded on the tip of Ellesmere Island in Canada, 880km from the North Pole. Twenty-three species live in this country, with six regularly found in British gardens. Their ability to fly in cool weather means that the bumble bee is the sole pollinator of plants that flower early and late in the year. Even that gentle noise which is so characteristic of them serves a purpose: they shake reluctant pollen from the stamens by buzzing, a process known as buzz pollinating.
If you watch bumble bees visiting a foxglove, or any other flower spike, they always start at the bottom and work upwards. These lower flowers are rich in nectar and as the bumble bee diligently works up the spike, it eventually reaches flowers without any but which are pollen rich. Liberally dusted the bee goes in search of more nectar - so transferring pollen from the upper flowers of the first spike to the lower petals of the next it visits. Thus cross pollination takes place and seed is set.
Some flowers, such as the anchusa (Anchusa azurea), have a clever system of randomly switching the nectar supply on and off. Unable to predict which flowers contain nectar the bee is forced to visit them all, distributing pollen as it goes. Other flowers, such as the saponaria, only release their nectar in the evening.
It is not always obvious which flowers hold nectar. The hard, prickly teasel and the sea holly don't look particularly promising, yet they are. Their flowers are made up from hundreds of florets, each with an individual nectar source at the base. Simple saucer shapes (such as the mallow), thistle-like flowers (cynara), tubular flowers (lamiums), spurred flowers (larkspur and aquilegia) and pin-cushions (scabious and knautia) are all highly attractive. On the other hand, intricate frilled flowers full of petals rarely have any nectar or pollen to offer.
Some bumble bees have long tongues and can reach the base of slender flowers such as comfrey, clover and beans. The shorter-tongued varieties often steal nectar from inaccessible flowers, such as the honeysuckle, by chewing a hole near the base of the flower - though this doesn't aid pollination.
To attract bumble bees gardeners need to supply nectar from February until the autumn. Despite the abundance found in most gardens, English Nature say that bumble bees are becoming rarer due to loss of nesting and hibernating habitat. Three British species have become extinct in the last 150 years - a rate of decline higher than that of any other insect during the 20th century. Bumble bees cannot hibernate in ploughed land, areas covered by tarmac or concrete, on land liable to flooding, nor in zealously over-tidied gardens. To survive they need somewhere cold, dry and undisturbed.
The problem is exacerbated by the fact that some species prefer well-lined nests deserted by mice and voles - and these are also in short supply. Gardens are now vital to the bumble bee's survival, so don't remove every stem and leaf and mow each blade of grass. Rather, take the lead of the National Trust, which is working with English Heritage, and try to leave undisturbed some leaf litter, a rough grass bank and some garden debris. "Put to bed" gardens may look neat but they don't help the bumble bee - nor indeed any other creature - to survive. And a world without the centrally-heated bumble bee would be less productive and a lot less pleasurable.
To ensure a supply of nectar from February to autumn your beds should include the following plants:
Late winter
early spring Clematis cirrhosa var. balearica, oriental hellebore, pulmonaria, crocus, hyacinth, heathers.
Late spring, early summer
Comfrey, rosemary, lamiums, bluebell, aquilegia, hardy geranium (including Geranium pratense), foxglove, cornflower (Centaurea cyanus).
Late summer
Sages, thyme, teasel, eryngium, phacelia, lavender, marjoram, verbascum, buddleja, lesser scabious (Scabiosa columbaria), mallow (Malva moschata), sweetpeas (Lathyrus grandiflora and L. latifolius), hollyhock.
Early autumn onwards
Aconitum (later varieties A. carmichaelii), helenium, sedum, fuchsia, late salvias, perennial helianthus (eg 'Lemon Queen'), solidago, single dahlias, japanese anemones.
Species most commonly found in the garden:
The buff-tailed bumble bee (Bombus terrestis); the common white-tailed (Bombus lucorum) and the common red-tailed (Bombus lapidarius). All three like to nest in old mouse nests.
The early bumble bee (Bombus pratorum), common pasture (Bombus pascuorum) and common garden species (Bombus hortorum) prefer to nest in leaf litter or grass tussocks.