The Cape of good tastes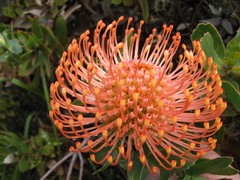 from The Oxford Times
I've just come back from the Cape, where the azure Indian Ocean meets the roaring surf of the Atlantic under the gaze of Table Mountain. There are rugged mountain ranges, river gorges, lagoons and long bays full of white sand and anyone who has a love of the outdoor life should definitely visit South Africa.
But I'm a gardener first and foremost and I was more impressed by this area's unique flora, the Fynbos, rather than the dramatic scenery. Fynbos, meaning fine bush, has been extensively cleared in some areas, but luckily, large pockets still exist on cool, temperate slopes, growing on poor, sandy soil unsuitable for farming.
The bush consists of proteas, ericaceous plants, sedge-like restios, bulbs and daisies and the display is at its best in September. This richness has evolved because South Africa has escaped three glacial episodes and we gardeners adore South Africa's agapanthus, kniphofias and crocosmias.
Seeing the fiery flowers of the proteas alive with iridescent sunbirds and clearwing butterflies will be with me forever. But I was there to judge the gardens at The Cape Town Flower Show, a new event in its fourth year sponsored by South African Airways. It's held yearly in late October and I was surprised to find that the issues that concern British gardeners also worry South Africans too. Their biggest concern is about conserving water and most of the show gardens had a 'waterwise' theme.
My personal favourite, African Textures, was a small, perfectly executed garden put together by the Cape Peninsula University of Technology. Described as "a fusion of Euro-Afro style", the designers had created simple floor patterns using a thick mulch of pale stone chippings and dark bark to protect the soil from overhead summer sun - a technique that could be used here.
They had shaded the gardens with four dark-brown, woven wooden screens, each with a circular window. They had used indigenous plants capable of thriving without extra water.
The use of pale and dark materials in this garden had a deeper significance, however. It symbolised racial integration and the woven pale and dark bark balls, planted with succulent aloes, added the perfect touch to this minimalist design where every plant made an impact on the eye.
The large clump of restios set in stone chippings was Elegia capensis and I have seen this growing in sheltered British gardens too. It is the easiest restio of all and, if you imagine a tall sedge some 5ft high with an upright sheath of narrow leaves regularly intersected with round bracts in two-tone cream and brown, you will understand its sculptural appeal.
There were, of course, one or two gardens that could have come straight from the Chelsea Flower Show. The Shades of White Garden, designed by a team from The Cellars-Hohenhort Hotel, was inspired by the White Garden at Sissinghurst and was awarded the Best in Show. Roses, incidentally, thrive in the hills of the Cape and the standard icebergs at my hotel had treelike trunks. They were also covered in bloom because the main flush comes in late October and early November in South Africa.
But every garden show must develop its own personality and I hope that the mix of Euro-Afro style bubbles to the surface. I would hate to see a mere imitation of Chelsea.