Spring Cottage May 2012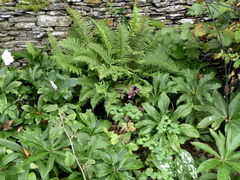 3 June 2012
Spring Cottage A Glorious May
May is one of my favourite months and the latter half has been glorious at Spring Cottage despite, or perhaps because of, the almost daily deluges relieved by the occasional, thatís very occasional, warm day or two. E. A. Bowles, the wealthy gentleman who once gardened at Myddleton House at Bullís Cross near Enfield, admired May too. He wrote that ďif a fairy godmother or a talking fish offered me three wishes ........... one would have to be to have the clock stopped on a fine morning towards the end of May.Ē
I so agree and I would have loved to been at one of his tulip tea parties, always held on The Tulip Terrace on his birthday on May 14th. Bowlesí wish was granted and his clock did stop on a May day in 1954, one week short of his eighty-ninth birthday. He was active until the end and still thoroughly in love with his own garden and Iím hoping to go the same way. In recent times Myddelton House has undergone renovation, including a new glasshouse, and itís open every day and admission is free. (08456 770 600 / www.visitleevalley.or.uk)
Bowles would not have approved of the two previous Mays here at Spring Cottage. Clear blue skies produced precociously hot weather with temperatures plunging to zero at night. Those extremes produce stressed, pinched plants with yellowing foliage. Drought held things back too, so there was no explosion of softly verdant foliage in the quieter areas of the garden. This year Iíve welcomed the return to normal British weather even enjoying the apologetic weather forecastersí discomfort as they predict yet more rain. The weather has freeze-framed my May garden and my plants have responded to consistently cool days and nights by producing fantastic foliage. And foliage is more important than flower to me, especially at this time of year when everything burgeons into new growth.
Iíve been able to enjoy the arching grace of Solomonís Seal (Polygonatum x hybridum ), a shade-loving plant of my childhood garden in suburban London. The silver spears unfurl and eventually arch over suspending clusters ivory-white bells underneath pairs of green leaves. Like many a shade plant it looks better after rain, covered in water droplets that sparkle as effectively as crystal-studded jewellery. This hybrid between P. multiflorum and P. odoratum is brilliant with lacy ferns and at the moment my half-open polystichum fronds look embroidered, as though they had silver crochet knots at every tip.
Now that my newly planted shrubs and trees have begun to cast shade here I have added more polygonatums and their gentle relatives, although I have drawn the line at Lily of the Valley ( Convallaria majalis). This invasive spreader might interfere with my precious woodlanders, so itís restricted to pots that can be forced into early flower. Instead I grow ĎBetburgí, a chocolate-leaved version of Solomonís Seal that I acquired from Beth Chattoís nursery, a source of excellent plants. It was collected by Isbert Preussler, the hard gardener of Helen von Stein Zeppelin, and named after the small village in the Black Forest, near Laufen, Sulzburg where it was found. The chocolate brown leaves fade back to green in time, but this yearís cool temperatures have slowed the process up giving me weeks of dramatic chocolate leaf, highlighted in one area by pallid, globes of trollius flowers.
Gentler polygonatums include P. x hybridum ĎStriatumí a bold cream and green stripy version which may be showing too much variegation for comfort: it may go via the village fete. Weíll see. The better variegated polygonatum is the Japanese P. odoratum var. pluriflorum ĎVariegatumí with its pinkish-red stems, finely edged oval leaves and frilly edged double cream flowers edged in green. Said to be fragrant, but this garden is rarely warm enough to smell anything pleasant. Iíve also reinstated an old favourite,Maianthemum racemosa, once known and still often sold as Smilacena racemosa, for its similar foliage topped by a fluffy cream spike. I pounced on a pink-flowered form of Maianthemum oleraceum too, selecting it from a batch of grey-white seedlings and I love disporums, although I may be too cold.
Yes, I do suffer from the sawfly on Solomonís Seal and the plump, grey caterpillars, which overwinter in the ground close to the plant, are an unsightly nuisance. Thick gardening gloves, which are no good for any other task, make effective squashers in my chemical-free garden.
Iíve also added trilliums because certain areas remain moist in this spring-fed garden with itís dark soil. However it has taken me a full six years to select the optimum spot for these woodlanders: one that is sheltered from strong winds and away from direct sun. This small area, about twelve feet square, now has several, but they wouldnít thrive close by elsewhere. One possible spot proved a frost pocket, another baked in summer as the sun swung to the north-west. One of the great skills of gardening is spotting what will go where and learning to ignore the plants that wonít go anywhere for every garden has its own personal topography and microclimate, places where certain plants look comfortable and happy. The skill is matching them up.
The three box chickens are fuzzing up nicely among the box balls, ready for a June trim, and they donít dig up the lawn like the real thing. The long grass is filling up nicely with yellow rattle, ( Rhinanthus minor) and this hemiparasite thins out coarse grasses by feeding on the roots. The flowers sustain the bees, but the raison díetre ACCENTS PLEASE behind sowing was to allow an orchid or two to reappear in the garden from the long lost seed bank. There arenít many left in the Cotswold landscape, unless of course the field was too steep to plough, but so far none have returned to my garden.
The grass is moving slowly this year, but Iíve now got a sharp contrast between mini-meadow and lawn and I wouldnít have it any other way. Iím a fan of long grass just like Christopher Lloyd was, and I get the same sort of comments from the mowing squad who think it looks messy. Each to his own and may you enjoy your own garden.