Spring Cottage April 2012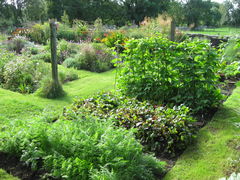 3 June 2012
Asparagus is perfectly possible at Spring Cottage although it arrives late because our village is not called Cold Aston for nothing! We planted some soon after arriving. The Best Beloved made a thorough job as always, digging a deep trench that made our neighbours joke about it being a mass grave. After his initial enthusiasm, activity ground to a halt and it fell to me the sieve the soil back in and plant the newly arrived asparagus crowns. I planted 'Connover's Colossal', awidely available 19th century variety. It was a disappointment. It didn't produce thick spears as promised. I got lots of thin female spears with berries, so up it came. It hadn't been helped by the man with the barrow by the way. He mulched it far too thickly in cold weather, over cold soil so that it had to struggle back.
Jamie Petchell, a young commercial grower of HARGREAVES P, was similarly disillusioned with the old asparagus varieties, but he decided on a radical approach. After a long trawl via the internet he amassed 300 different varieties from every part of the world, planting them in a large field close to King's Lynn in spring 2004 . "Seventeen breeders from nine countries sent me material. I chose seeds, rather than plants or crowns, because I wanted to produce the most uniform plants possible" he explained "so that every variety had the same chance."
Each variety was planted in several different test plots, again to give them the fairest chance to shine. "If one plot was damaged by wildlife for example, we could still see how that particular variety performed in another place". After a couple of years the spears were harvested and assessed for quality, flavour and yield. "It became apparent very quickly that some were suited to growing in drier conditions. Some were not completely dormant in the winter either, so they would try to grow but there was so much water in the soil that the plants died" Jamie explained.
Over the next couple of years lots of asparagus lunches took place in Spalding and friendsm growerrs, retailers and relatives alike had to give each a score. Back at the field the local rabbits were running their own taste tests having found countless ways to breach the wire netting. "Initially I was pretty annoyed about this as I thought they were spoiling my asparagus trial" Jamie told me. " But in actual fact they were only targeting the varieties that tasted the sweetest."
The four-legged Norfolk connoisseurs went straight for two purple varieties bred in New Zealand, namely 'Pacific Purple' and 'Stewart's Purple'. Blindfolded human guinea pigs agreed with the local wildlife and scientific analysis soon showed why. The purple varieties contained on average 25% more natural sugars than standard green types. "Now we've finally learnt to trust the rabbits' judgement" Jamie added with a touch of irony.
Varieties were whittled down over time so that fewer remained, but then it became much harder to make the final selections. Finally Jamie identified 'Mondeo' ( available as crowns and seed from Thompson & Morgan) and 'Guelph Millennium' as the best in the trial. "They both provided great taste, excellent spear quality and superb yields. Ever since, I have been trying to get as many seeds as possible in order to produce crowns for growers and gardeners alike" Jamie added. Further selections from this trial are in the pipeline, but building up seed stocks is a lengthy process.
Jamie's ingenuity (and the taste buds of his discerning wild rabbits) means that new varieties are now available to gardeners. If you think asparagus is not worth growing, think again. It is the only crop available in late-spring, when there's a hungry gap after early brassicas. This is why it's a stalwart in traditional vegetable gardens. Now we have some new varieties to shout about, although do it quietly if you have rabbits nearby!
Growing Asparagus You will need a deeply-dug, fertile but well-drained weed-free plot of considerable size with a pH of roughly 7. Asparagus is usually in the ground for many years, so be patient and don't cut any spears for three years. Crowns are easier than seeds in my opinion. They arrive as large spidery plants and must be planted immediately. Spread the roots and space them a foot apart, at a depth of four inches, with forty inches (1m) between rows. Avoid frost pockets and cold sites. Crush asparagus beetle should you see any.
Four New Varieties
'Pacific Purple' A New Zealand tetraploid variety bred by Peter Falloon, with a sweet flavour. Long shelf life, so widely grown as white asparagus commercially. Needs good soil.
'Stewart's Purple' This new purple high-yeilding F1 hybrid is considered the sweetest. The low fibre content means the spears are particularly tender when eaten raw. Mid to late season.
'Mondeo' Bred in Northern Germany for the production of green and blanched white asparagus on a range of soil types. High-yielding and early.
'Guelph Millennium' Hargreave's most popular asparagus, with superb green spears. Bred in Canada at the University of Guelph in Ontario, this all-male, vigorous cultivar is adapted to cooler climates and colder winters. Late season.
Suppliers Pomona Fruits 0845 676 0607/ www.pomonafruits.co.uk