Natural Principles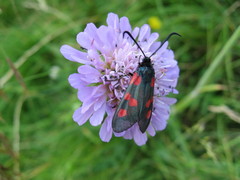 Create some leafy shelter during winter by planting evergreens - these provide shelter for birds, small animals and insects.
Provide nectar for as many days of the year as you can - especially during winter and early spring when the bumble bees often emerge.
Get to know where the sun falls in your garden and plant the different areas accordingly because all gardens, however small, contain many variations. Try to leave undisturbed strips between each of these areas.
Think about your lawn creatively, altering the length and the mowing regimes. Aim to leave some areas unmowed.
Make a pond (where child-safety allows) because amphibians are great predators.
Plant densely, aiming to cover the ground by mid-May, and plant diversely using some small trees, some shrubs, perennials, annuals and bulbs. This pulls in more insect life.
Use natural rather than chemical solutions to tackle pests.
Get to know your soil and accept its limitations - this will avoid plant disease.
Grow drought-tolerant plants in the hottest, driest places - they won't need watering. Use mulches to conserve water in other areas.
Don't take organic waste out of the garden -use it for compost
Provide berries and fruit to sustain birds and small mammals.
When autumn arrives leave parts of your garden intact. The seed heads shelter insects, feed the birds and add form and structure,