Herbs for the hot sun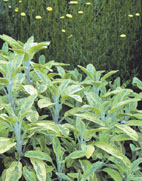 from The Oxford Times
The recent hot weather has crisped my astrantias, my heleniums and even my Brussels sprout plants. But all my silver-leafed, aromatic herbs have loved it because many of them hail from the Mediterranean regions of Europe. As a result they adore sun-baked, dry summers and as far as they're concerned, the hotter and drier the better.
They survive by putting down deep root systems during their first year and by adapting their foliage. It can be finely divided (as in rosemary and thyme) or it can be softly hairy, like the sage. But their chief sun screen is the aromatic oily covering on the leaves and this makes them pleasantly pungent when stroked or sniffed.
These aromatic beauties sunbathe through summer and then put on growth during mild, damp winter weather. Often they are battered by our cold British winters, but a hard prune in late spring soon revives them and they usually look their best when most of the garden is struggling.
When blending a border or container, it's best to mix the leaf shapes to create a tapestry. Most sages have oval leaves, but one (Salvia officinalis Berggarten') has larger, greyer felted leaves and more substantial flower spikes than the norm. It's worth seeking out.
There are also sages with different coloured leaves. Icterine' has variegated gold and green leaves, Tricolor' has a three-way combination of purple, white and green and Purpurascens' turns damson-purple in hot weather. Mix all three with the usual grey-green sage and you can create a mound of soft-summer colour.
Salvia comes from salvere' to save and the Romans, who introduced many of these plants, used sage as an antiseptic for open wounds. You could also add some dainty origanums. They are adored by the bees, as are most aromatic herbs.
I would probably seek out one of the named forms of Origanum laevigatum (see Plant of the Week). Origanum is Greek for joy of the mountain' and it was mainly used for cooking, but it was also strewn on the floor to scent the air and repel pests. Under planting roses with lavender and other mixed herbs will repel pests in the garden setting too.
Lavender, a name taken from lavare meaning to wash, produces the most relaxing aroma of all and brushing past lines of lavender or running the stems through the hand is one of the most soothing of summer pastimes.
Artemisias have finely divided foliage and many form low-growing mounds of lacy foliage in soft grey. Some, like Powis Castle', produce billowing mounds of grey-green filigree leaf that can measure almost 3ft in height (90 cm) in width and height. Others barely reach a foot. My own favourite is Artemisia alba 'Canescens' a mass of almost-white, fine curls. The soft-grey Cotton lavender (Santolina Edward Bowles') is also stunning and this form has soft-yellow, pompom flowers.
July is a good month to take semi-ripe cuttings. Choose non-flowering, young shoots about 3in in length. Trim off the lower leaves and cut beneath the node using a sharp knife.
Place several in a 3in pot filled with equal parts of horticultural sand and compost. Your cuttings can stay in pots over the winter. Pot them up in mid-spring and plant them out when fully rooted.