Caring for a garden's soul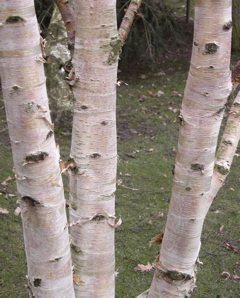 from The Oxford Times
You have all heard of St Catherine whether you realise it or not because she has a firework named after her. It's that maddening circular one that is supposed to go round and spin but rarely does. The real St Catherine of Alexandria was put to death in the fourth century by Maximus for her Christian beliefs. He ordered her to be lashed to a wheel and broken'.
St Catherine's Day falls on November 25 and in France it's the traditional day to plant a new tree. As I get older, I get fonder of trees. They give the garden soul as well as casting light and shade.
Muriel Stuart, a lady poet of note who lived in London from 1885 to 1967, put it so much better when writing in 1936: "Trees give a privacy, a curtaining, and the gardener who can complacently tend a treeless garden without a sense of nakedness is less easily shamed than Adam and Eve."
Well said, but trees are permanent features. If you make a poor choice, the effort of moving one is immense and the guilt of destroying one is even greater. Even gardeners like me, who live and breathe plants daily, may only plant 20 or 30 trees in their lifetime.
How I envy the young man or woman who is able to plant an arboretum of hundreds and watch them mature season by season. Most of us then need expert help when choosing a tree and visiting an excellent nursery is essential. My own favourite is the Bluebell Nursery and Arboretum at Ashby de la Zouch, Leicestershire (tel. 01530 41370O or
www.bluebellnursery.com
) I am presently debating which tree to plant and I'm wavering between Prunus serrula, a simple white, airily branched cherry, grown principally for its high-gloss mahogany bark and a sophisticated snake-bark maple.
Snake-bark maples have striated green and grey markings on their trunk and branches and they look as though a paint stylist has just finished an expensive colour-wash treatment.
Prunus serrula is the easy choice. Planted with a ruff of silver-leaved pulmonarias or encircled by the silver lamium White Nancy' to set off its trunk, it will happily shade hellebores, snowdrops and spring woodlanders with grace.
Snake-bark maples, on the other hand, are definitely more difficult and I'm preparing myself for the challenge of planting one for the first time. Several come from China and one of the best - Acer grosseri var. hersii - displays a splayed shape and olive-green and grey patterns. The hard-to-find Manchurian snake-bark maple, Acer tegmentosum, had jade-green overtones.
Another, A. davidii, is similar but easier to find but snake barks are also found in the US. After all, before continental drift the two were joined. Some of these American snake barks produce bright pink new wood - very Barbara Cartland. But they are the most difficult of all, especially on chalk.
There is a hybrid between the American and Chinese form, called Acer x conspicuum and it's more likely to thrive and produce those bright pink stems. Whichever snake-bark I finally do end up planting, it will have to have a sheltered space and the space to shine in winter